2021 Nordby Golf Invitational Sponsors
---
August 16, 2021marked the 31st Anniversary of the Nordby Golf Invitational, benefiting the local chapter of The Salvation Army, held at the Santa Rosa Golf & Country Club. With an indelible presence in our local community, The Salvation Army is considered one of the most efficient non-profits organizations anywhere, returning over 94% of all donations to those in our who need it most. The Nordby Golf Invitational, with your generous support, raised over $91,000 in 2021 that will directly benefit the local chapter of The Salvation Army through our non-profit agency, OTHERS.
Thank you to all of the volunteers, individuals and businesses that lent their support for this very necessary cause.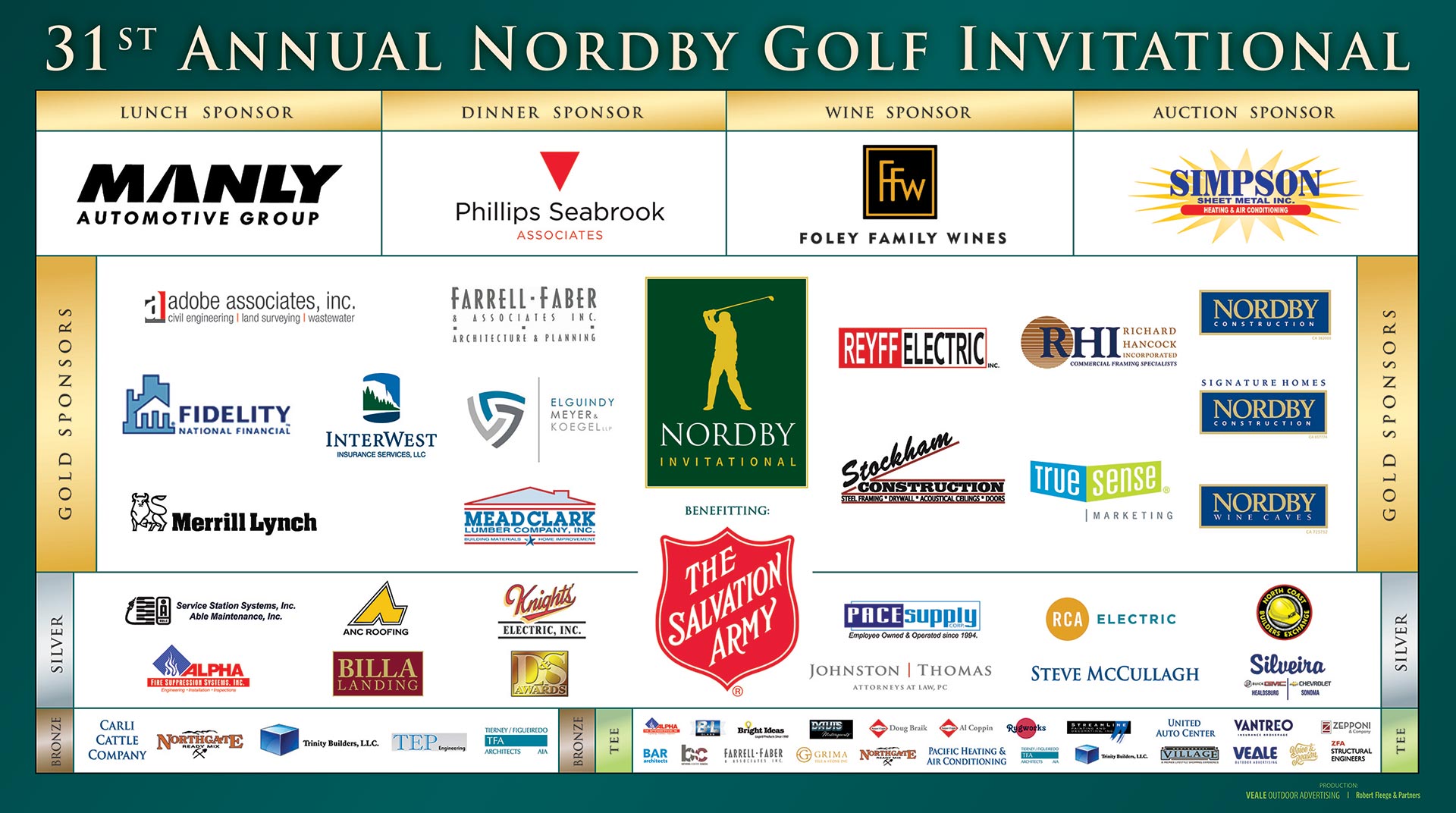 A special thank you to our event emcee, Keith Woods and our auctioneer, Ken Cunningham.
Thank you to the committee that made it all happen: Wendell Nordby, Nancy Nordby, Craig Nordby, Daryl Phillips, Blaine Goodwin and Gina Barnes.
2021 Winners for the 2 person scramble were:
2021 Callaway Flight
1st Place: Keith Crandall & Cory Woods - 67
2nd Place: Rick Shone & Juan Carlos Fernandez - 70
Gross Winners
1st Place: Jeff Scott & Steven Warne - 61
2nd Place: Dennis Wilkinson & Jim Fisher - 65
Net Winners
1st Place: Mitch Soekland & Tim Davenport - 62
2nd Place: Denise Silveira & Kimberly Schroeder - 62
Longest Drive
Men: Steve Warne
Women: Casey McDonald
Closest to the Hole
Hole #4: Manny Castillo 0'7"
Hole #6: CVZ 0'8"
Hole #15: John Whiting 16'4"
Hole #17: Mike Ryan 7'5"